February 27, 2018
by Kimberly Stempien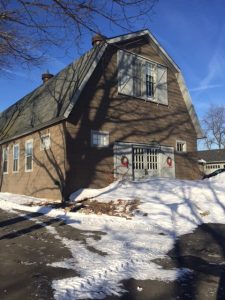 Where can you visit a farm within the five boroughs of New York City? 
Queens County Farm Museum
, in Floral Park, Queens, a 47-acre working farm with a focus on sustainable agriculture.  Purchased in 1975 by the NYC Department of Parks, the farm dates back to 1697. In the 1800's, it was a very productive truck farm, which used wagons to deliver produce into the NYC markets. Today, the farm focuses on sustainable agriculture and educational programs for children and adults. Ali Abate, Director of Education, began working at the farm in the summer of 2013, bringing a background in youth development, program planning, staff management and a passion for sustainability and agriculture.  She emphasized that the farm provides a vital service to the community by providing a peaceful solace from the hustle and bustle of New York City, while offering a number of excellent programs related to sustainability education. Sustainable Farming According to the National Agriculture library/ USDA, the definition of sustainable agriculture "is to make the most efficient use of non-renewable resources and on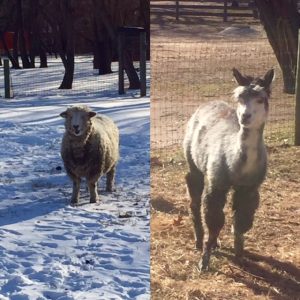 -farm resources and integrate, where appropriate, natural biological cycles and controls." Queens Farm is fully sustainable and participates in sustainable farming practices throughout the year.  It's home to a few varieties of heritage breed animals that were in existence before current industrial farming practices. The animals are considered sustainable because they are well adapted to local environmental conditions, making it easier for them to survive outdoors, unlike commercial breeds. The farm has a variety of livestock including Cotswold and Romney sheep, two Dexter steers, chickens, goats, alpacas, and honey bees. Over 80 varieties of vegetables and fruit are cultivated each season, including Lunchbox sweet peppers, Murasaki sweet potatoes, and delicata squash. Each year, new crop selections are made and planted.  Queens Farm also cultivates a variety of flowers, including Red Shiso, Jade Sunflower, and zinnia. The farm's bounty, which includes seasonal veggies, honey and eggs, is sold five days a week at a market right at the entrance to the farm. Flowers are offered for sale at the market or through a seasonal weekly bouquet subscription. A year-round retail shop sells more sustainable products, such as tea made from herbs grown in the newly renovated greenhouse, and wool from the farm's sheep, which has been dyed using all natural, chemical-free fennel, indigo, and poke berries grown on the farm.
STEM and the NYC Department of Education  A large component of the farms' success comes from educational programs geared toward elementary school children.  Abate explained, "We work with the NYC Department of Education in a number of ways; school field trips, afterschool programs, summer camp, and professional development programs for teachers. Most of these programs contain elements of science and sustainability, simply because we are located on an organic, working farm that uses sustainable practices." A STEM (Science Technology Engineering Math) camp is offered once a year in July. Children learn elements of math by designing a plan for a farm and creating a blue print of a farm plot. Some of the questions considered are: What will be planted? and How much space should be allotted? Students choose plants native to the area and within USDA zones in which plants are more likely to survive. On the last day of camp, students present collages of their farms for review. Other activities include farm work like weeding and composting.  According to the Queens Farm 2016-17 annual report, in 2016 there were 600 school visits.  A total of 50,823 children and chaperones visited the farm for educational purposes. A Creative Compost Program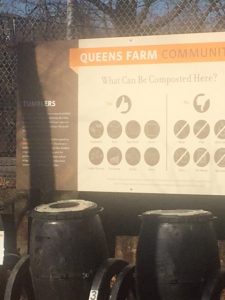 Composting is a sustainable practice that has taken hold in New York City over the past few years. In fact, the Department of Sanitation has started distributing food scrap bins to certain neighborhoods in the five boroughs. Queens Farm provides a composting drop off site for the community, along with education on the lifecycle of the practice.  "The compost site was established in 2011," Abate said.  "Queens Farm received a grant from the Environmental Protection Agency and used it for signage at the compost site."  Through an educational exhibit, visitors learn about the process, timeline, and appropriate composting methods. In 2016, community members dropped off 2,500 pounds of food scraps. There are also specific composting event days. For example, GrowNYC contributes to the piles by donating an estimated 5,000 pounds of food scraps from a full day at a New York City green market. "We compost our farm waste using a Windrow System which includes plant waste from our fields, certain weeds, animal manure, and leftovers from our lunches," Abate explained.  "All are composted onsite in static piles that we build using layers of leaves. We also add food waste dropped off from the community to the Windrows." Adult Education and Community Outreach In addition to school programs, the farm offers a number of adult learning experiences, such as veggie gardening basics, wreath making, exploring colonial flavors, Queens Farm flowers, preserving the harvest, and beekeeping 101. New programs added in 2018 include intro to weaving the Queens Farm fabrics, and possibly a yoga class.  According to Abate, the sustainability programs continue to expand, "We are gradually expanding our flower program so that we can provide more sustainably grown, "slow" flowers to our farm stand customers and site rentals." Juxtaposed with the surrounding city, the open space of
Queens County Farm Museum
is a perfect place for respite while learning all about sustainable agriculture. Take the opportunity to visit this green and educational oasis on the outskirts of the city.