Tag:
sustainable-farming
March 1, 2018
by Jenny Nicolas At the annual GreenHomeNYC Green Catwalk, seven speakers presented the latest information on everything from ventilation to greening the moving industry to O&M to-do lists within the sustainability space.
Part 1: Eat, Breathe, Move, & Check Sustainably
Changing Our Relationship with Food
Ricky Stephens, co-founder of AgTech X, set the stage by presenting some of the biggest flaws within our country's current food system. He indicated that 80% of the food grown today is not meant for human consumption, with 40% grown to support animals and 40% to be processed into biofuels. Additionally, though the plant kingdom is diverse, 84% of total US cropland is dedicated to just three crops: corn, soybean, and wheat. The long term prospects for the system are also in jeopardy as farming is not attracting new folks to the industry – the average age of a U.S. farmer is 58. What can be done to fix our current system? The goal of AgTech X is to create a new food economy, using urban farming as a vehicle to educate, decentralize, and make farming exciting again. AgTech X fosters a collective community by hosting classes, workshops and tours. Its co-lab workspace supports decentralized urban farming methods like Farm One and Smallhold, indoor farms housed in restaurants that produce farm-to-table microgreens. And a recent "Intro to Aquaponics" class by Oko Farms explained the closed-loop system of raising fish, creating fertilizer for plant growth and filtering the water. While urban farming is not a new concept, innovations in the past five years are making it a more intriguing career option for young professionals!
(more…)
February 27, 2018
by Kimberly Stempien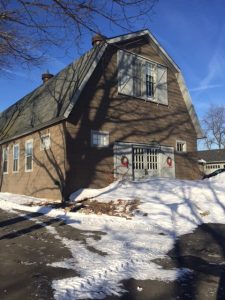 Where can you visit a farm within the five boroughs of New York City? 
Queens County Farm Museum
, in Floral Park, Queens, a 47-acre working farm with a focus on sustainable agriculture.  Purchased in 1975 by the NYC Department of Parks, the farm dates back to 1697. In the 1800's, it was a very productive truck farm, which used wagons to deliver produce into the NYC markets. Today, the farm focuses on sustainable agriculture and educational programs for children and adults. Ali Abate, Director of Education, began working at the farm in the summer of 2013, bringing a background in youth development, program planning, staff management and a passion for sustainability and agriculture.  She emphasized that the farm provides a vital service to the community by providing a peaceful solace from the hustle and bustle of New York City, while offering a number of excellent programs related to sustainability education.
(more…)