August 26, 2013
Countdown to BE NYC!
With only
days until October 16th, GreenHomeNYC is shining the spotlight on the experts who will be making the BE NYC conference an exceptional industry event!
One of the professionals participating in the conference is 
Steven
Winter
.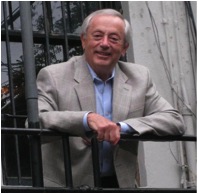 Steven Winter
 spent his educational years studying architecture and architectural technology in Sydney and New York.  During Steven's early professional life, he focused on approaches to making energy-efficient pre-fabricated buildings. After working for twenty five years in the field of building science, Mr. Winter founded and is currently the President of 
Steven Winter Associates
, which has provided research, consulting, and advisory services to improve commercial, residential, and multi-family built environments for private and public sector clients since 1972. Meanwhile, Steven has also served as Chairman of the 
U.S. Green Building Council
 and has taught at both 
Columbia University
 and the 
Pratt Institute
.  He earned the Evergreen Awards Perspective in 2009, and was named a "Hero of the Planet" by Builder Magazine in December 2002 for his contributions to sustainable building in the U.S. Steven is the co-chair for the 
Commercial & Institutional Track
 of Building Energy-NYC 2013.   What led you to sustainability as a field? The need for sustainability has been driven by the world's interest in ensuring the long-term survival of humans and their habitat, as well as by economic realities and regulatory constraints.  At some point in time in the 70s, the same clients who were making pre-fabricated houses came across energy-related issues in their products with regard to code compliance.  For example, there were requirements for insulation, and they wanted to optimize the way they installed those elements in their buildings.  We helped them with that and, as with many other technical service areas else—after we did it two or three times we considered ourselves experts—we became energy experts.  Pretty soon the energy consulting and research became more predominant in the work we were doing than was the prefabrication. Why did building owners start to care about energy? It was the codes, primarily, in the beginning.  Some wanted to avoid the codes; some wanted to meet the codes and do so in ways that would fit in with the way they built buildings.  The pre-fabricated housing producers were using an assembly line.  While insulation installed in the field was understood, how to install it on an assembly line was an important challenge.  No one really knew anything about this at the time, so I was being paid to learn. How did your business grow? In addition to codes driving market transformation, energy costs rose—sometimes dramatically, sometimes gradually—and those that pay bills for large properties stand to gain a lot from building in an energy efficient manner.  There was also government research work available.  We helped write books and standards for how to comply with energy codes.  We developed a slide rule for how you could achieve optimum energy compliance.  One takes the work where it exists. What's different about BE NYC? If you're going to have a conference in New York City, you've got to go with things that are NYC-centric, which is tall buildings and commercial buildings.  The conference appeals to building owners and managers, and they're always looking for ways in which they can own and manage their buildings more effectively.  By having specific sessions focused on different building types, we're looking to attract specific segments of the commercial building community, including office buildings, retail, health care facilities, cultural institutions and hotels.   What is the goal of the Commercial & Institutional Track? NESEA has long focused on residential buildings in New England.  By holding a conference in New York, we are hoping to show owners, managers, and designers of large buildings how much they can benefit from a relationship with NESEA. What motivates owners today? Owners are looking to build and manage better buildings, but also to make money.  They like to take advantage of financial incentives for improvements to their buildings, and there will be a NYSERDA professional speaking about incentives at the conference.  These real estate professionals want to hear what their competitors and peers are doing.  Many leaders from the field will be there to share their stories, so their peers may learn from their successes and failures. Why commercial and institutional buildings? Commercial and institutional buildings are very influential in this city.  We work in them; we are healed in them; we get cultural satisfaction in them.  There are more apartment buildings than there are commercial buildings, but commercial buildings are often the bigger buildings, and they are the ones that define our lives in many ways.  For example, educational buildings have a huge impact on who we become.  The same buildings that delight us, host us, and entertain us, also have to be sustainable.
Interested in learning more from Steven Winter? Look for him at the Commercial & Institutional Track at BE NYC.
CLICK HERE to register for BE NYC.
For more information on workshop sessions, sponsoring and exhibiting at BE NYC, CLICK HERE.
Interview conducted by 
Jordana Viuker
. To know more about GHNYC's The Green Spotlight, 
CLICK HERE!