Tag:
green-retrofits
March 30, 2011
Lots to report in the beginning of the new year from the Washington.  The change in Congress has the White House changing its approach to encouraging energy efficiency and regulating greenhouses gases.  In some cases the commitment to efficiency has been reaffirmed, in other cases it is not so clear.  Throughout, however, is the reality of a new Congress that does not have the same interest in putting tax money up to incentivize energy efficiency.  After the jump is information on the new Better Buildings Initiative, changes in policy making bodies and staff departures on the executive level, and the growing influence of the oil and gas industries in the effort to regulate greenhouse gases.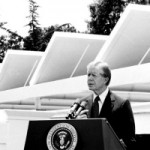 (more…)
November 17, 2010
Crain's covers
this week's expansion of a City initiative to support homeowners with energy audits and retrofits: "This is an idea that came together last winter," Ms. Quinn said. "We're taking their idea and furthering it." The initiative is now being expanded to the rest of Bedford Stuyvesant, plus Jamaica, Queens; Soundview, Bronx; and West Brighton, Staten Island. Those neighborhoods were all picked because of their high homeowner occupancy in one-, two- and three-family houses. The $400,000 will be used by Pratt and the community-based groups to conduct an outreach program to inform homeowners of the benefits of both energy audits and retrofits. The outreach will also direct homeowners toward existing funding programs, according to Wendy Fleischer, director of sustainable services at Pratt Center for Community Development. Among those pots of money is the federal weatherization assistance program, which targets low-income homeowners.
NYC launches $400K energy-saving effort
, Crain's New York Business.
June 3, 2010
Tuesday's New York Times discussed the economics of green retrofits, and the Deutsche Bank/Living Cities Building Energy Efficiency Data Report — The practice of retrofitting buildings with simple, environmentally friendly technology like more-efficient boilers and better-quality windows has been around for years, but there is little research on how much energy these changes actually save — and by extension, how much money they can save landlords and lenders. In an effort to supply that information, Deutsche Bank Americas Foundation, the philanthropic arm of the German bank, is financing the creation of a public database of several hundred retrofitted buildings in New York City and a companion report to determine the savings from such moves.
(more…)