Tag:
job-skills
March 9, 2019
Join us for a workshop on networking! Learn the tricks of the trade from professionals, and make connections of your own. We will talk about the importance of networking and practice skills.
Workshop Leader: Emily Taubenblatt
Emily is a communications consultant at APCO Worldwide and lead volunteer with GreenHomeNYC. She advises clients in online networking strategies and organizes in-person networking events.
Date:
March 12, 2019
Time:
6:30pm – 8:00pm with networking afterwards
Location:
GROHE, 160 Fifth Avenue (Entrance on 21st), Floor 4, New York, NY
Register Here!
April 27, 2018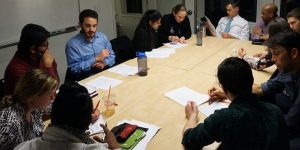 A good resume is your best weapon when you're on the job hunt. To help you on this quest, the May Green Careers event is our annual "Speed Up-Dating Your Resume" workshop. In timed sessions with resume critics, you'll receive constructive, personalized feedback on how to present your skills and experience in the best way possible. This year, we're adding in a bonus! In addition to sprucing up your resume, you can also get your photo taken for LinkedIn or other uses if you like. So come dressed for the job you want and we will snap a pic and email it to you after the event.
Attendees are expected to:
-Be prompt! The event starts at 6:30pm, so be sure to arrive early. -Bring at least five hard copies of your resume for review. -Be prepared to discuss your resume and contribute to evaluating others.
Date
: Tuesday, May 8, 2018
Time
: 6:30pm – 8:00pm with networking afterwards
Location
: Steven Winter Associates, 307 7th Avenue 17th Flr, New York, NY 10001
Register Here!