Tag:
resumes
March 2, 2019
By Emily Taubenblatt February's Green Careers event had participants refresh their resumes "speed dating" style. Volunteer reviewers offered tips and best practices for the most successful resumes and participants walked away with multiple perspectives on how best to showcase their experience to land the job of their dreams. In case you missed it, here are some of the tips that were given: Fit your resume onto one page. Send your resume in PDF format to preserve the formatting on any computer. Position your relevant skills and experience at the top of your resume, and put education further down the page. Include an objective or goal at the top of your resume. When describing internship experience, avoid using the term "intern". Instead, take credit for the work you did as an intern by calling it the job that it is! Avoid extra white space and unnecessary lines. When describing your skills, keep it limited to those that are the most impressive — everyone knows how to use Microsoft Word! Break up large chunks of text into bullet points. Start each descriptive line with a strong verb. Know your audience and tailor your presentation of your experience to match the job you're applying for. Make your experience sound exciting.
April 27, 2018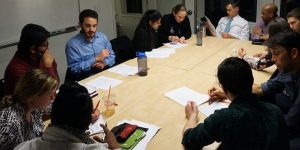 A good resume is your best weapon when you're on the job hunt. To help you on this quest, the May Green Careers event is our annual "Speed Up-Dating Your Resume" workshop. In timed sessions with resume critics, you'll receive constructive, personalized feedback on how to present your skills and experience in the best way possible. This year, we're adding in a bonus! In addition to sprucing up your resume, you can also get your photo taken for LinkedIn or other uses if you like. So come dressed for the job you want and we will snap a pic and email it to you after the event.
Attendees are expected to:
-Be prompt! The event starts at 6:30pm, so be sure to arrive early. -Bring at least five hard copies of your resume for review. -Be prepared to discuss your resume and contribute to evaluating others.
Date
: Tuesday, May 8, 2018
Time
: 6:30pm – 8:00pm with networking afterwards
Location
: Steven Winter Associates, 307 7th Avenue 17th Flr, New York, NY 10001
Register Here!
August 14, 2014
Article by Louisa Chan Photos by Keith Wong Job seekers of all types from students and recent graduates to seasoned professional looking to make a career change gathered for GreenHomeNYC's latest Green Careers meeting to hear green industry veterans share their insight on the hiring process and written communication. Over 20 participants attended the event which was hosted at the offices of
Green Light New York
on Tuesday, July 8, 2014. The evening included advice from Andy Padian, Vice President for Energy Initaitives for The Community Preservation Corporation and Board Member of GreenHomeNYC.  Mr. Padian, who has more than 30 years of sustainable energy experience, shared his insights on how to get a resume past the human resources gate. He reminded participants that a resume is a 1 page magazine advertisement that should bring people back for more. He emphasized the importance of having a clean resume and cover letter free of grammar and spelling errors.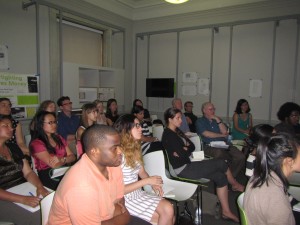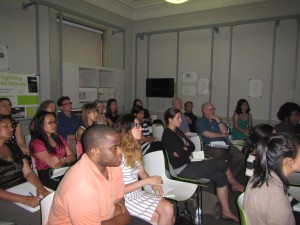 Photo by Keith Wong
Bomee Jung, Interim Director for Enterprise Community Partners and founder of GreenHomeNYC cautioned against using new or unfamiliar vocabulary in your resume or cover letter. Instead, Ms Jung recommended using your own words and following basic paragraph structures in cover letters. On interviewing, "Have a clear story of who you are, what you want and why you want to be there," advised Ms. Jung. If you are unsure of what you want to do, spend time conducting informational interviews with those in your networks.
(more…)