Tag:
resiliency
May 9, 2019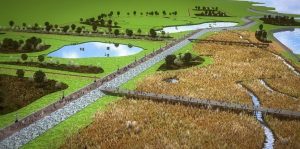 Enormous problems of the future are making their way into the present-day at an accelerating rate. From aging infrastructure failures to climate-related catastrophes, from significant human population shifts to energy supply interruptions and more, we collectively face the daunting task of keeping up with the myriad changes happening all around us. Adaptability will be critical in order for future generations to thrive. But what are we doing in order to achieve that? What projects, technologies and policies are advancing that effort? What is happening on the ground and out in the field to help us build that resilient future? We will be exploring these questions and more in our upcoming Monthly Forum! Join GreenHomeNYC on May 15th to hear from professionals on the front lines of developing a more resilient physical infrastructure for our communities, and learn about the impact their efforts have in creating a more sustainable future for NYC and beyond! Date: Wednesday, May 15th, 2019 Time: 6:30 PM – 8:00 PM Place: Fujitsu Airstage, 1450 Broadway, 42nd floor, New York, NY 10018
REGISTER HERE!
(more…)
October 14, 2013
Countdown to BE NYC! With only
days until the conference, GreenHomeNYC is shining the spotlight on the experts who will be making the
BE NYC
an exceptional industry event! One of the professionals participating in the conference is
Steve Bluestone
. 
Steve Bluestone is a partner in
The Bluestone Organization
, a real estate development, contracting, and property management firm founded by his grandfather, Jacob Bluestone, in 1927.  Mr. Bluestone studied architecture and passive and active solar energy systems, earning a B.S. in environmental science from Marlboro College.  Since entering the construction and development industry, he has led his firm's efforts on research and implementation of green building design.  Using off-the-shelf components, the firm produced a 50-unit rental building that was hailed as "the most energy efficient multi-family building in New York State with four or more units," and did so at conventional construction cost levels.  Steve lives with his wife in Westchester County in a passive solar, geothermally-heated and cooled home that they designed and built in 2000.  They are in the process of building an innovative new house upstate that is destined to be net zero energy and
Passive House
certified.
Steve is a speaker within the Small Buildings Track of BuildingEnergy NYC 2013.
(more…)