Tag:
sustainable-buildings
July 6, 2015
Join GreenHomeNYC for a special tour of One Penn Plaza's Combined Heat and Power plant!
Date: 
Wednesday, July 22nd, 2015
Time:
 6:00 – 7:00 pm
Location:
 34th Street Lobby of One Penn Plaza (entrance btw 7th and 8th Avenues)
Cost:
  $10 Early Bird; $15 Procrastinator
Sign Up!
This midtown office building produces 6.2 megawatts of energy on the 12th floor, greatly reducing peak demand burden on the City's energy grid. Property manager Vornado invites GreenHomeNYC to explore their Combined Heat and Power (CHP) plant at the 57-story One Penn Plaza, a major contributor to the 2.5 million square foot building's LEED-EB rating for existing buildings. Peak Power One CHP removes a burden of 20-25 million kwh per year from the City's power grid, and supplies 50% of the electricity and 30% of the steam requirements to One Penn Plaza. By capturing waste heat from the engine generators and reusing it to power both heating and cooling systems for the building, the system achieves approximately double the efficiency of conventional power supplied by the grid (70+%). The higher efficiency reduces greenhouse gas emissions, making the building's electricity usage 40% less carbon intensive.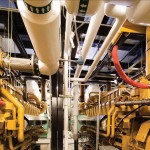 Space is limited, so RSVP TODAY
September 11, 2014

invites you to join us on September 30th as we explore
Sims Municipal Recycling's Sunset Park Material Recovery Facility!
Sims Municipal Recycling's (SMR) processes all of NYC's residential and institutional metal, glass and plastic recyclables, as well as half of the City's paper.  The new facility has a Recycling Education Center, where New Yorkers are encouraged to come see how recycling happens in NYC. The bright colors and interactive exhibits will engage younger visitors, and detailed information about their processing equipment and business strategy will spark questions for adults.
When:
Tuesday September 30, 2014 6:30pm-8:00pm.
Where: 
472 Second Avenue (NOT Street) Brooklyn, NY 11232.
The visit will start with introductory presentation and videos that will illustrate what happens after recyclables are put into the recycling bin.  Visitors will then have some time to explore the interactive exhibits that detail the sorting operations. The tour continues onto the catwalk that oversees huge piles of recyclables and the operating equipment. As a member of the green economy, the Sims site also features a large solar panel installation, habitat mitigation through artificial reefs, native plantings, and fuzzy rope nets to encourage growth of filter feeders along the pier. Sims hopes that a visit to the recycling facility will forever change visitors' perception of what it means to throw something "away."
Space is limited – 
Register Today!