Tag:
volunteering
March 16, 2018
Meet another GreenHomeNYC volunteer who dedicates her time to make our educational programs a success.  This month, the spotlight is on Emily Taubenblatt.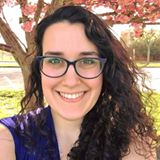 Why did you decide to volunteer for GreenHomeNYC?
About 2 years ago, I wanted to connect with others in my chosen field of sustainability and I also was looking for a job when I heard about one of the Green Careers events. After attending, I learned that the group needed an event photographer and since I enjoy photography, I volunteered. I eventually became part of the Green Careers Planning team.
Where are you from?
I'm from Westchester, NY
What did you study in school?
I studied environmental planning as an undergrad and I have a Master's in environmental science.
Where do you currently work?
I'm a Project Consultant at APCO Worldwide, a global communications firm. I work primarily in the Corporate Social Responsibility (CSR) practice.
What GreenHomeNYC activities are you engaged in?
I am on the planning committee for Green Careers and I attend a majority of those events. Occasionally, I also attend the Monthly Forums, if the topic interests me.
What do you like most about the organization?
I now consider myself a professional networker, thanks to GreenHomeNYC. Attending events and talking with people after the panels has helped me build invaluable skills that I would not have otherwise. Being involved in this organization has really helped me put myself out there and connect with people.
What three things are you most passionate about?
In no particular order: music, photography and saving the world (contributing to building a more sustainable future).
December 27, 2017
GreenHomeNYC has many dedicated volunteers who contribute their talents to make our educational events a success.  In 2017, the Board of Directors recognized one particular volunteer for his significant contributions to our organization over the last several years. We're pleased to announce our 2017 Volunteer of the Year is Gregory Thomas. Gregory joined us four years ago as a Monthly Forums volunteer.  For the past two years he has served as co-lead, along with Theresa Baker, bringing his enthusiasm, dedication and project management skills to his role with us. He's been a driving force behind the Monthly Forums, many of which have drawn standing room only crowds. Meet our 2017 Volunteer of the Year, Gregory Thomas, in this month's Volunteer Spotlight:
How long have you been involved with GreenHomeNYC?
I've been involved since January 2014, so I'm just finishing my 4th year as a volunteer.
What GreenHomeNYC activities are you engaged in?
For the past 2 years, I have been co-lead of the Forums Planning Committee, helping the event organizers pull together and run their events, conducting some Forums myself, as well as taking steps to evolve the processes of the team.
(more…)