« Back to Green Buildings Database
GreenHomeNYC is collecting detailed profiles of green buildings across the city. Information about buildings is submitted by owners, developers and managers, who also write the descriptions. If you have information on a building, please add it to the database.
Parkview 1
A Green Residential Building in The Bronx, NY.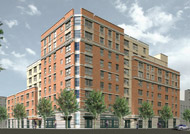 Elton Avenue
The Bronx
NY
10451
Parkview Commons is a new mixed-use affordable housing development on Elton Avenue and East 161st Street in the south Bronx. The site is a former brownfield.
The building part of a joint venture created by local activist Yolanda Garcia and the neighborhood group she headed, Nos Quedamos (We Stay); Melrose Associates LLC; and L & M Equity Participants Ltd. The builder is L & M Builders, LLC.
Transportation
Bicycle Friendly:Public Transport Access
Type of building (home, school, commercial, etc.)
Mixed-use